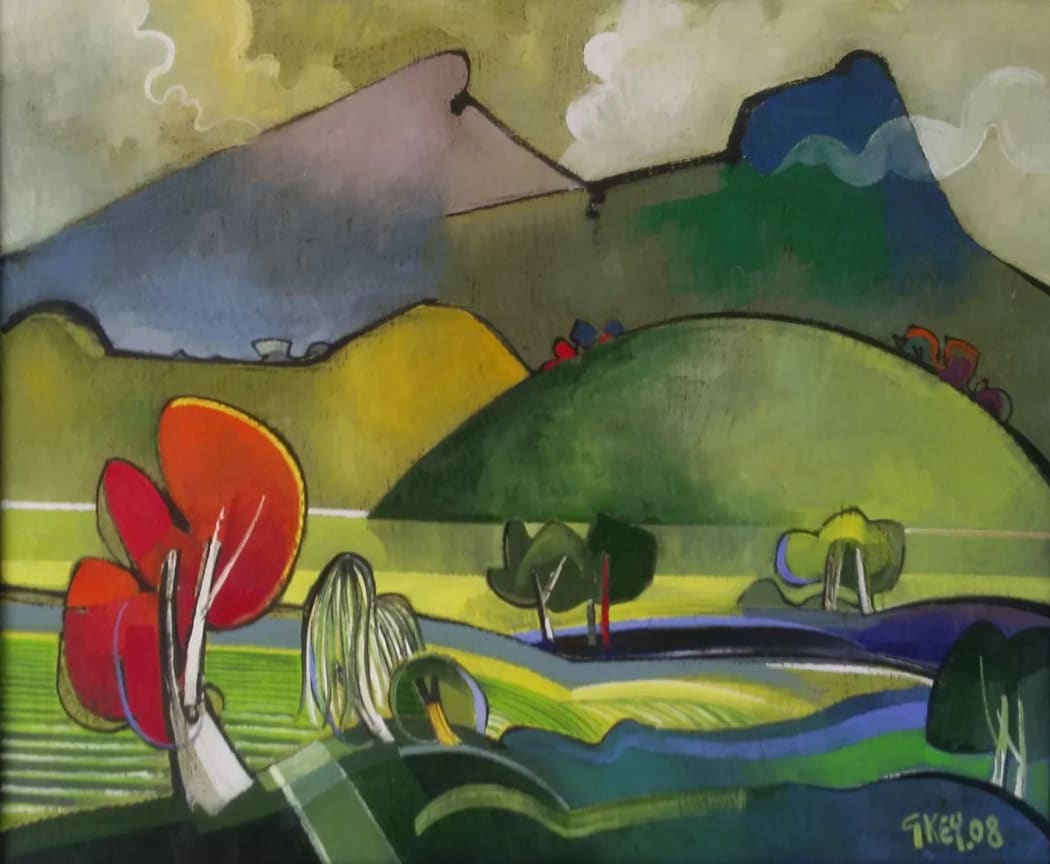 Geoffrey Key (b1941) is almost certainly the most successful living artist operating in the North of England today. He has been producing work for more than 50 years and his RRP for a 24" x 20" oil comfortably exceeds £10,000. His influence is immense – examine the work of almost all northern contemporary artists, from Peter Stanaway to Ben Kelly, and Key's influence can be clearly seen. Geoffrey Key clouds are one of the most borrowed motifs in Northern School Art.
A measure of his importance – apart from the 25 of his works held in public collections – is that commercial art galleries have to buy work from the artist, rather than is almost universally the case, take it on a sale or return basis. Nobody is this successful for this long unless they really are very good at what they do.
But what is it that makes him so good? Most articles about Key will focus on his technique, or composition, but instead in this blog I want to focus on something that is often overlooked – his development as an artist, honed over 50 years.
Artists who paint for a living, rather than as a hobby, can be very easily forgiven for finding a formula that is commercially successful, and sticking to it - after all, we all need to pay our mortgages and feed our family. Unfortunately, this all too often leads either to lack of originality, or to stagnation. An artist from the North of whom we often write – Brian Shields – is the textbook example. Under his pseudonym Braaq, Shields essentially became the founder member of what Martin Regan in The Northern School – A Reappraisal described at The New Lowry School. This is a "School" that essentially copies motifs of Lowry and turns them into neatly packaged, but poor pastiches of Lowry's work.
There's a wonderful line in the (must-see) 2016 film Sing Street that captures the point perfectly. The film concerns a young boy in 1980s Ireland who forms a band and is deciding what music to play. His elder brother encourages him thus: "Every school has a covers band. Every pub has a covers band. Every wedding has a covers band and every covers band has a middle-aged member who'll never know whether they could have made it in the music industry because they never had the balls to write a song … rock and roll is a risk".
Braaq essentially painted the same painting again and again for his entire career, taking no risk. Other artists have done similar. Yes this can be commercially pragmatic, but it generally lacks pretty much any artistic merit, and builds no legacy.
Geoffrey Key is different. He became a full-time painter in the 1960s, giving up his teaching post. He said of this decision: "I woke up one morning and realised something had to give. I was going to end up as either a bad painter or a bad teacher – and I wasn't giving up painting. So I rang the headmaster and resigned."
Key went to the Manchester School of Art, and was taught by Harry Rutherford. Key's teacher had previously been taught by the great Walter Sickert, and he never quite developed away from a Sickertian feel to his pictures, but Key was determined not to fall into the same trap. He said of this time: "Harry was painting bad Sickerts and I was painting bad Rutherfords".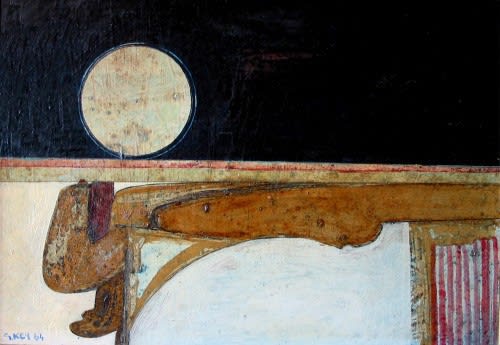 To rid himself of this habit, and find his own voice, Key went to Derbyshire to a small hill overlooking Glossop known as The Nab. He painted this hill over and over again and has said of this period: "In painting the hill I burnt off all the influence I had from Harry, not the mathematics of painting, but I ended up with work which was hopefully me."
Most people generally only see Geoffrey's work in commercial art galleries, and this tends to be his more recent, brightly coloured work. They are often very surprised when they see one of the Nab pictures. They are completely abstract, with a muted palette and hard to spot as a Key. Geoffrey himself – rightly – does not appreciate comparisons of his work to Picasso, although there are worse artists to be compared to, but in one respect they are similar. Look at some of Picasso's earlier work – particularly in the 1890s – and you would be hard pressed to spot one as a Picasso, so used have we become to his later style.
From the abstract pictures of The Nab landscape emerged semi-figurative work. We sold a marvellous example in one of our early exhibitions – Nab Horse – and currently have a slightly earlier picture – Two Nab Figures – which is a superb example of this period in his career. In the latter picture, it is as if the figures are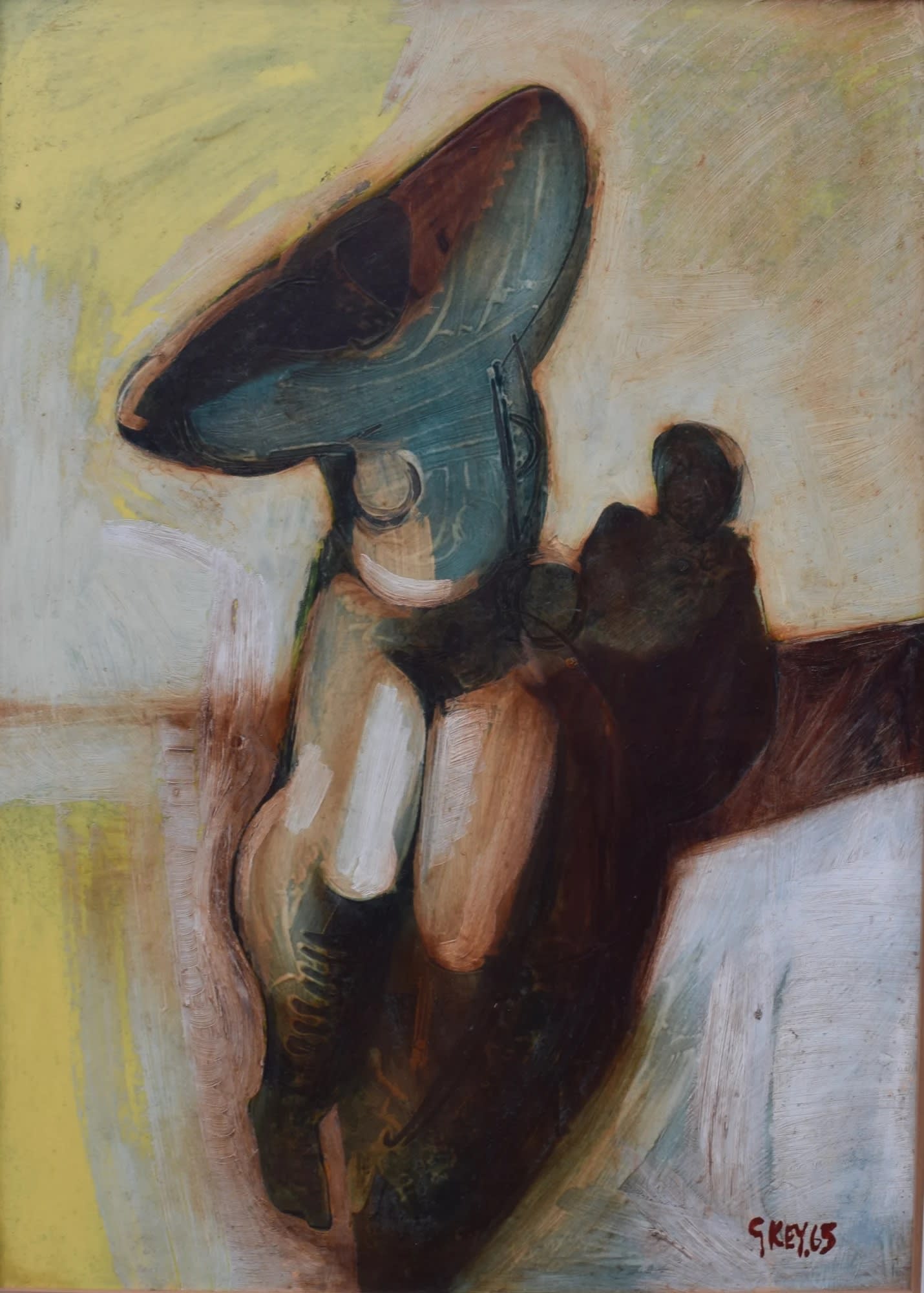 growing out of the landscape itself as the artist is painting in real time a change in the direction of their work.
By the early 1970s, Key's work had become much more recognisably figurative and his colour palette, although still muted, began to develop further. Familiar subject matter – particularly horses – began to emerge frequently. By the late 1980s, Key was painting pictures of the highest quality. The auction record for one of his paintings (still surprisingly low at just £15,500) is for one of his paintings featuring a horse, the magnificent 1985 Riders with Clouds.
Key's 1960s Nab pictures were clearly leading up to his more recognisable style in the 1970s, which led to the sheer quality of his work in the 1980s when he had truly found his voice and mastered his craft. But then, in 1990 his worked changed again. A visit to Hong Kong in 1993 led to a dramatic lightening of Key's palette and the use of the vibrant colours that collectors are now so familiar with.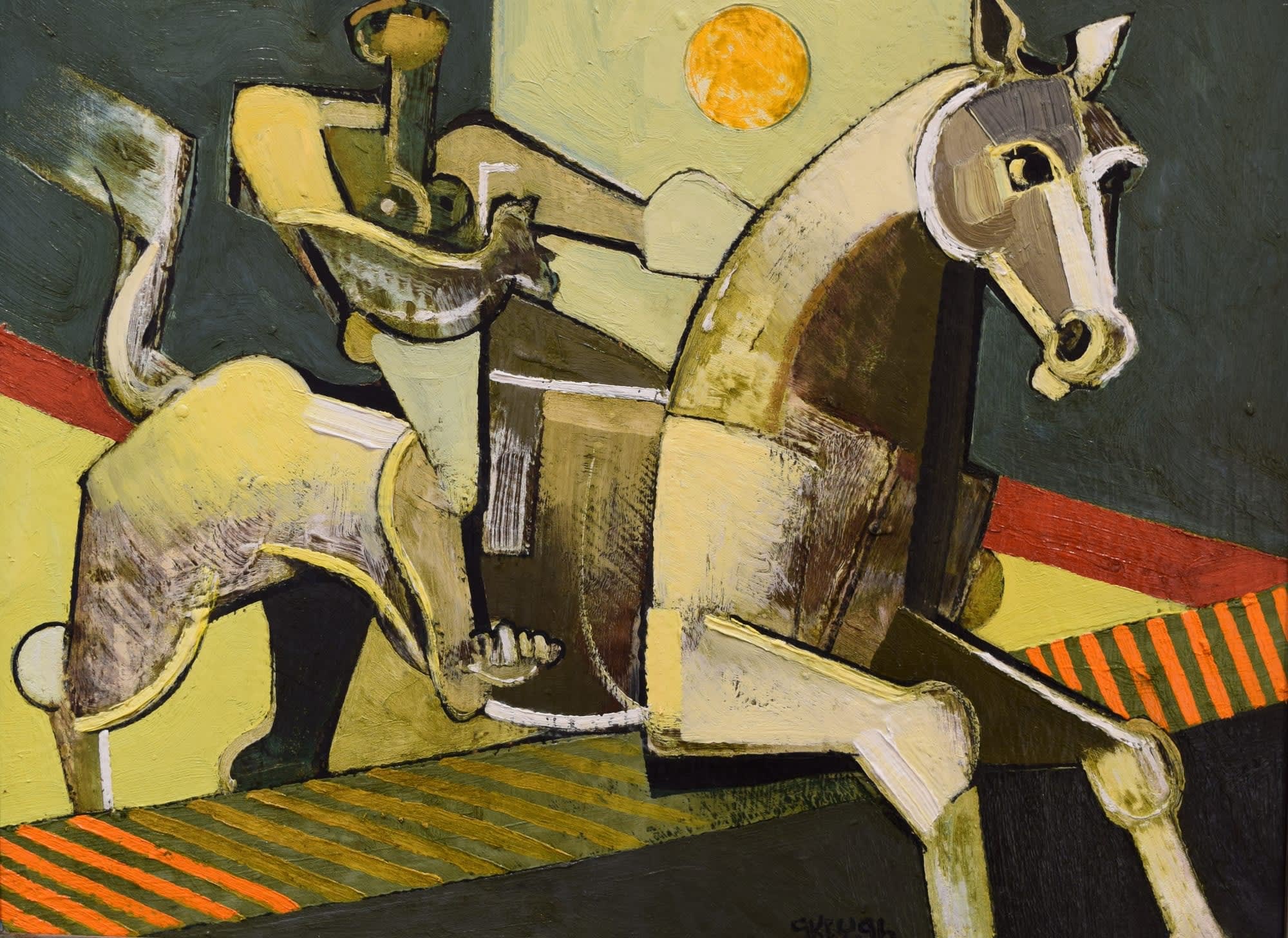 The change was instigated by the light he encountered during the visit, saying: "It was what I'd been looking for, something that just changed the way I saw colour." The 1990s and 2000s saw an explosion in the popularity of Key's work, to go with the explosion of colour on the canvas. It was this period that saw Key paint some of his now iconic "series" – a batch of paintings covering a particular theme, only moving on to a new theme once his inspiration had been sated. His Hong Kong Series was 1994, the now iconic Jester series was 1995, Horses in 1996, Musicians in 1997, Pierrot in 2001, Horse Racing and Amsterdam in 2004 and Birds in 2010. Each were interspersed with other themes, and he returned to these subjects more than once, but his creative output in the 16 years between 1994 and 2010 at least matched the quality of his work in the 1980s. No other artist we can think of in the North can match this breadth and depth of subject, style and colour.
Collectors naturally value more highly the work since Hong Kong – this was when he really burst into public consciousness, and into the multiple commercial art galleries that sell his work. Both the Jester and Pierrot series attract the highest prices, with horses generally next. But Geoffrey's early Nab work, particularly in the late 1960s as you could just see the figures emerging from the abstract landscape, is amongst our favourite. In years to come, this body of work – relatively unpopular with collectors – should be reappraised as being of great importance.
The very fact that you can have a debate about which particular period in the artist's work, or which particular series or which particular colour palette is your favourite tells you all you need to know about why Geoffrey Key is so good. He has a complete body of work over six decades showing his constant development as an artist. Now entering his seventh decade of painting professionally, his output continues with barely a pause.
He's the original band that everyone wants to cover.