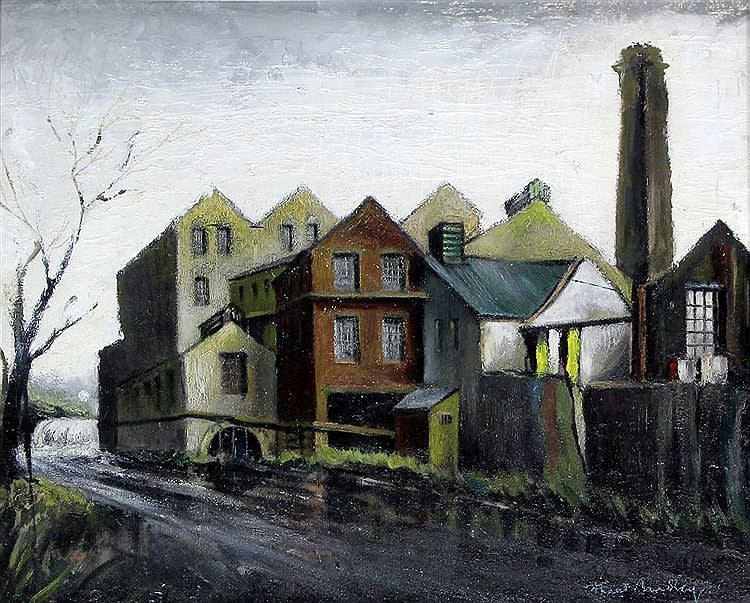 Several years ago, there was a small marital rift in the Pulford household. I had seen a painting at auction that I thought was – without exaggeration – one of the best pictures I had ever seen. Mrs Pulford was duly tasked with bidding on the picture, only to completely forget. The painting sold for £300 to a very lucky purchaser, and despite our efforts to make the buyer a substantially improved offer after the auction, we have not seen the painting since.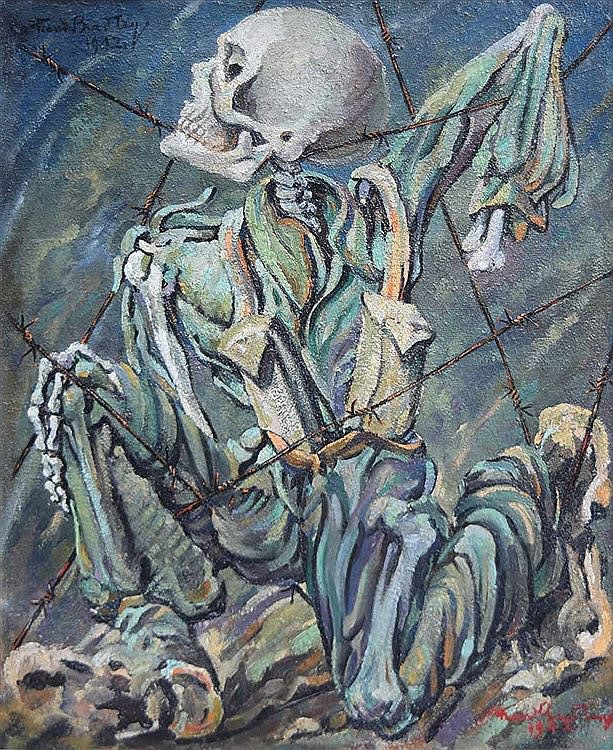 The picture was called Pawn – Piece of Smallest Value (A Foot Soldier). It depicted the half skeletal remains of a soldier whose final resting place was to be entangled in barbed wire. It's a fabulous painting, tragic, harrowing yet strangely beautiful. It also has a title that adds significantly to the impact of the painting (which is a recurring theme of these blog posts). The painting was made all the better by being just the right size. It's an odd thing, but sometimes a painting just works much better at a certain size. Most (but not all) of Roger Hampson's pictures worked for being very small. Pawn is 24" x 20" - big enough to be impactful, without being an overpowering size.
The painting was by an artist of whom I had never previously heard – Frank Bradley. I took some time to research the artist, and could very little information on him. It struck me as odd that a painter of the talent to paint a picture such as Pawn would leave relatively little trace, so I began to look out for other paintings by the artist as and when they came up for sale. We have subsequently acquired three, all of which are available in the Gallery.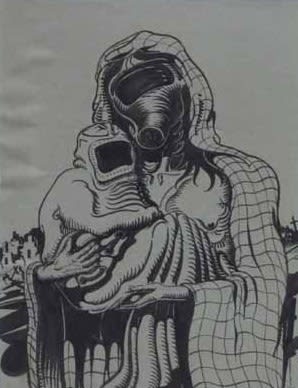 Madonna, a monochrome watercolour from 1939 is another powerful anti-war picture, featuring a stylised image of the oft painted Madonna and Child, but in Bradley's case with both Madonna and child wearing gas masks. This is a haunting image, created at the outbreak of the Second World War, with the religious theme subtly emphasised by the cross on the landscape in the rear, with both child and mother looking frail and vulnerable.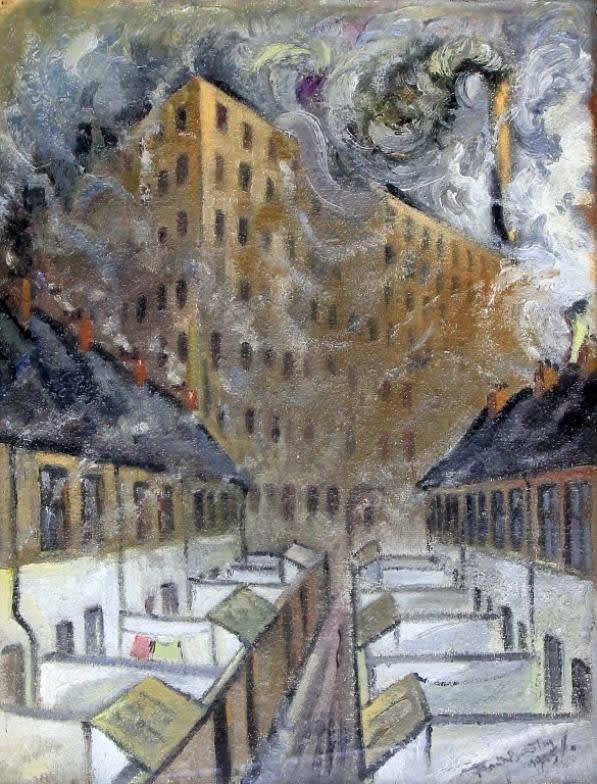 Industrial Landscape, painted in 1945, is the type of image that will be familiar to followers of Northern Art. It depicts a street of terraced houses, with the perspective drawn towards the enormous factory in the background belching out smoke and dominating the houses in the foreground. The painting is unusual in that it depicts the backs of the houses and their small enclosed yards, rather than the fronts as is more typical for this type of painting. In a lovely touch by Bradley, one of the houses has some washing hung out on a line in the back yard, a futile exercise against the all-enveloping factory smoke.
The reason why I find this painting so interesting, is that very few people were painting these types of scenes as early as 1945 - even Bradley's friend LS Lowry had not produced all that many scenes of terraced houses at the time. It's also slightly different in character from a typical terraced street scene. Instead of being simply observational – a recording of a piece of social history like much of Lowry's work – it carries a strong underlying message. The factory feels almost alive. The slightly distorted perspective of the factory – used as a motif most notably in the North by William Ralph Turner – makes it feels somehow alive. Its size, and the way the smoke crawls around the edge of the painting and towards the houses creates for me some sense of impending doom. This is very, very good painting, and I suspect really quite an important one.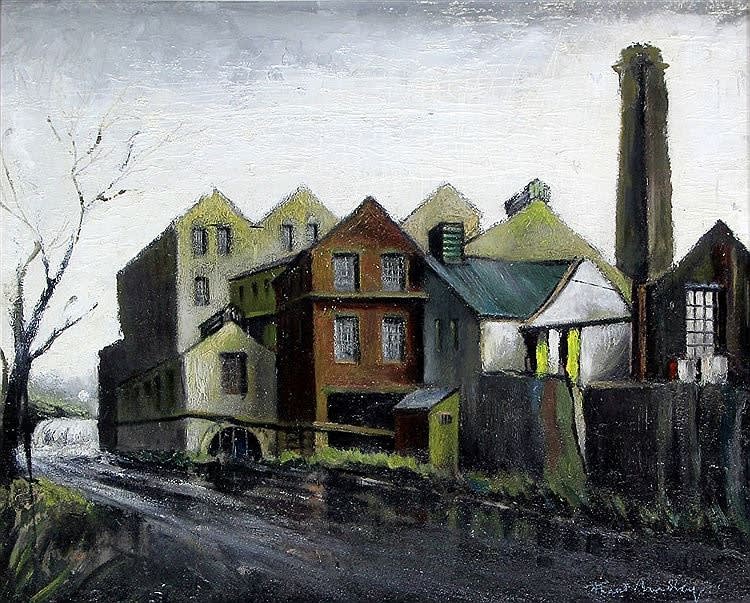 Botany Mill by contrast is a much more representative painting, but one which shows Bradley's eye for an image.
Bankwood Mill, which became known as Botany Mill, was one of the oldest textile mills in the North. It was built in 1791 alongside the banks of the River Etherow, in the town of Charlesworth, Derbyshire, just 2 miles from Bradley's house in Mottram. The site changed hands (and uses) various times over the years, seeming never to be successful - all operations ceased in 1941 and it fell into dereliction, with some of the buildings being used as chicken sheds.
Our research into Bradley's life is still in the foothills, but what do we know? He was born in Manchester in 1903 and died in Stockport in 1995. Between times, he studied at the Manchester College of Art and later in Newlyn under Stanhope Forbes, later living for a time in Nancledra, close to St Ives. By 1953 he was an Associate at the Royal Cambrian Academy of Art (the Welsh equivalent of the RA), and was an Academician and its Vice President by 1963. He had a solo show at Salford Art Gallery in 1958 and was also an Architect who worked for the Manchester Corporation.
We know that one of Bradley's hobbies was the creation of intricate toy and model theatres. His collection was gifted to Derby Museums in the late 1970s and is on display at Pickford's House Museum of Georgian Life and Costume in Derby.
Most interestingly perhaps, Bradley was a long-time friend of LS Lowry. They lived very close to each-other in Mottram in Longdendale, with Bradley reputedly being responsible through encouragement for Lowry moving there. The two men often going on walks together deep into Derbyshire and the Yorkshire Moors. One Lowry drawing – Study for House on the Moor Heathcliff's House - was sold through auction in 2017. It had previously been gifted to Bradley and was accompanied with a letter with Bradley himself noting it was "drawn by [Lowry] when we trudged over The Moors to the old farmhouse in 1949 (circa). Later we both made oil paintings of this fine building."
Frank Bradley is an artist the region needs to know more about, if anybody has any more information on this marvellous, but sadly forgotten, artist, please let us know.