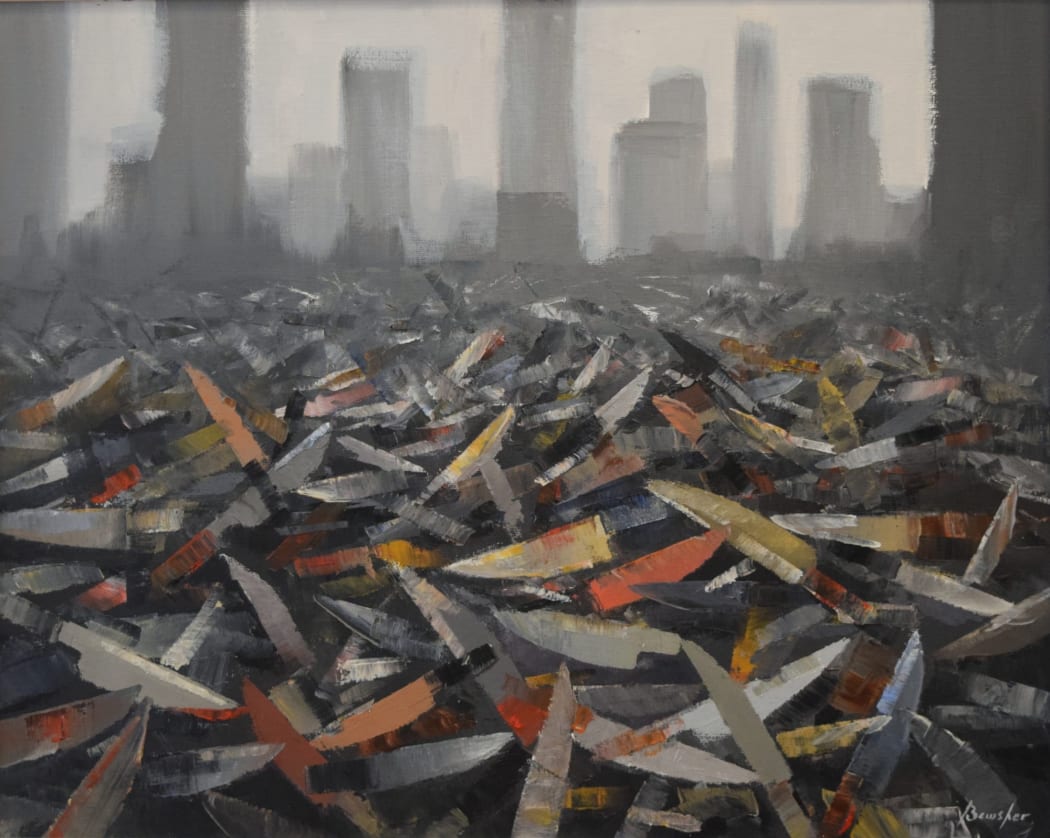 It's not often I find myself disagreeing with world famous artists on the subject of art, but Matisse and I are certainly not on the same page. The French artist once famously said that: "What I dream of is an art of balance, of purity and serenity devoid of troubling or depressing subject matter - a soothing, calming influence on the mind, rather like a good armchair which provides relaxation from physical fatigue."
I suppose can understand Matisse's view, particularly if you are thinking of hanging art in your home, which for most of us is a retreat from the stresses of the real world. But for me, the best art should be thought-provoking, perhaps controversial, certainly challenging.
On that note, Steve Bewsher has recently brought some new work into the Gallery. It covers subjects such as Brexit, Parliamentary democracy, public protest and homelessness, and really is worth a trip to Hale to see. My favourite piece amongst the new batch is entitled Amnesty of Knives, the picture accompanying this blog.
Steve was prompted to paint this picture by the week-long knife amnesty that Greater Manchester Police held in September. Over 600 knives were deposited, and GMP Superintendent Chris Downey said: "This is a great result for Greater Manchester as this means there are 632 less knives out on the streets ... The consequences around carrying a knife are huge and range from being expelled from school, through to loss of life. A big part of my role is to inform people of the catastrophic after-effects of carrying a knife, with one point in particular being that even if you don't plan on using the knife, just by carrying it, your chances of becoming a victim of knife crime increases."
This is not a conventional subject for art, but Steve Bewsher tackles a lot of subjects that are unconventional. As a reminder to himself to pursue this in his art, Steve carries with him in his wallet a quotation from the renowned French artist and sculptor, Jean Dubuffet: "Real art," Dubuffet said, "is always lurking where you don't expect it, where nobody's thinking about it or mentions its name."
While there is a long tradition in painters painting like Matisse's good armchair, there is an equally long tradition of artists - like Steve Bewsher - painting challenging pieces, highlighting social or political issues. The following are my current favourite five:
1. The Raft of the Medusa, painted by Theodore Gericault in 1819, is held by the Louvre in Paris. This is a huge painting, and depicts the aftermath of the wreck of the eponymous French naval vessel, which ran aground in July 1816. A few days later, around 147 of the crew were set adrift on a raft; all but 15 died in the 13 days before their rescue, and those who survived endured starvation and dehydration and practised cannibalism. The event became an international scandal and a huge embarrassment for the recently restored French Monarchy.
2. Guernica, painted by Pablo Picasso in 1937, is exhibited in the Museo Reina Sofia in Madrid. Picasso painted Guernica in response to the bombing of the Basque town Guernica, by Nazi Germany and Fascist Italy at the request of the Spanish Nationalists. The painting helped bring worldwide attention to the Spanish Civil War and is regarded by many art critics as one of the most moving and powerful anti-war paintings in history.
3. The Slave Ship, painted by J.M.W. Turner in 1840, is held by the Museum of Fine Arts in Boston. J.M.W. Turner was inspired to paint The Slave Ship in 1840 after reading The History and Abolition of the Slave Trade by Thomas Clarkson and most likely inspired by the Zong Massacre, where the Captain of the slave ship Zong ordered 133 slaves to be thrown overboard so that insurance payments could be collected on the lost cargo (this is how slaves were legally deemed). Turner exhibited his painting at the same time as a meeting of British Anti-Slavery Society, which was campaigning to have slavery abolished in the rest of the world (following its abolition in the British Empire several years earlier).
4. We are Making a New World, painted by Paul Nash in 1918, is held by the Imperial War Museum, London. The painting depictsa scarred landscape created by the First World War, with shell-holes, mounds of earth, and leafless tree trunks. The painting has a glimpse of hope with the sun rising above the wasteland, and it has been described as one of the best British paintings of the 20th century and a powerful statement about the futility of the First World War.
5. The Problem We all Live With, painted by Norman Rockwell in 1964, is held by the Norman Rockwell Museum in Massachusetts. This painting directly addresses racism and segregation in America and features an African-American girl - Ruby Bridges - being escorted to school by four US marshals, at the height of the schools desegregation crisis in New Orleans.
The limitations of technology mean that I can't show pictures of these wonderful paintings, but I recommend you to use the power of Google to look them up and the impact they had on the world. Better still, go to see each of them - that would make an excellent grand tour.