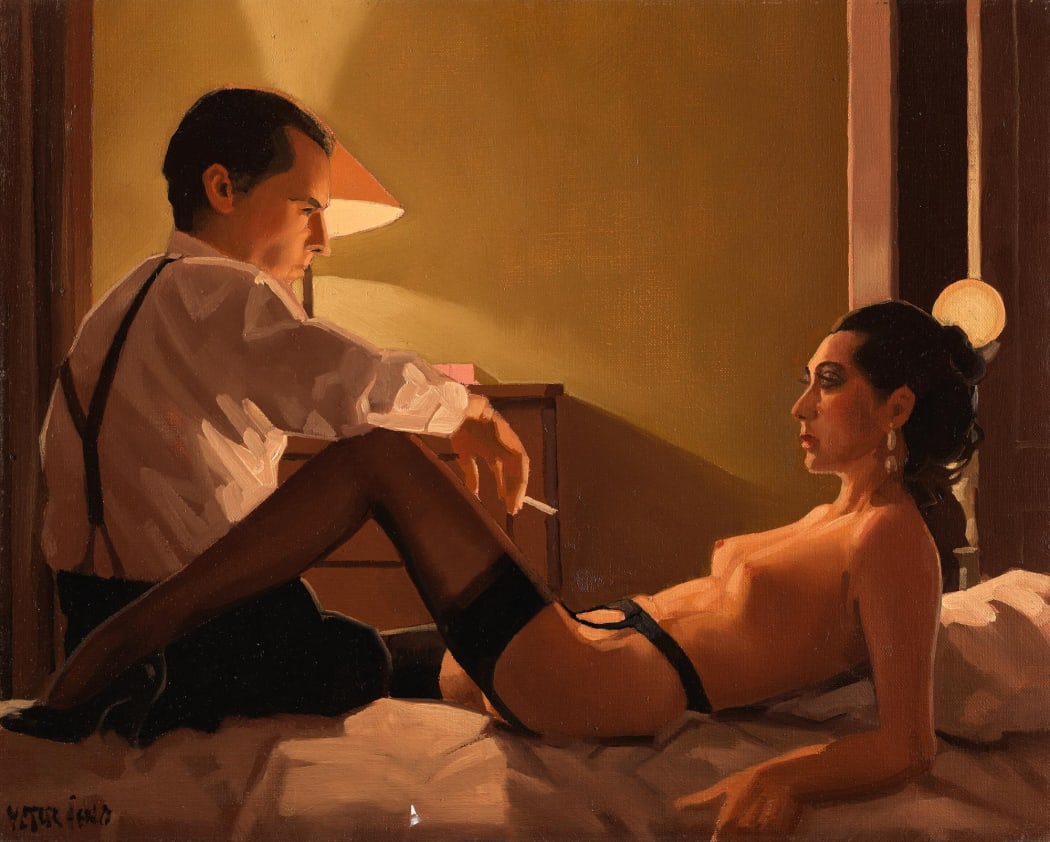 Sotheby's held an excellent Scottish Art auction last month, which I made a special effort to go and see. It included a number of fine works by the Scottish Colourists, with a Samuel Peploe selling for £312,000, a Francis Cadell for £187,000 and a John Fergusson for £119,000.
For me though, the highlight was the way that Sotheby's displayed the works of John Bellany, Peter Howson and Jack Vettriano. These three artists have divided opinion for many years in the art world, and the Sotheby's show dedicated a large room to hanging works by just these three artists, and included some very strong examples of their work. The sale prices achieved tell us some very interesting things about the demand for art.
First, let's take Jack Vettriano, the former coal miner and self-taught artist born in 1951. Pretty much everybody in the UK, and possibly further afield, has either heard of Vettriano, or at the very least seen at least one of his pictures - the Singing Butler. This painting at one time held the record for the highest price for any Scottish painting, but the ubiquitous reproductions have made it the best-selling art print in the UK.
The Guardian art critic, Jonathan Jones, wrote of Vettriano's work in 2004: "Vettriano is not even an artist. He just happens to be popular, with "ordinary people" who buy reproductions of his pseudo-1930s scenes of high-heeled women and monkey-suited men, and celebrities who fork out for the originals of these toneless, textureless, brainless slick corpses of paintings. I urge you to visit the National Gallery. Look at great paintings for a few hours. Now take a look at Vettriano. I'm not arguing with you; I'm telling you. I look at art every day and I know what I don't like."
Jones recognised the trap he had set himself here, and went on to write: "There I go - being elitist. Art critics are, in the game Vettriano plays, snobbish patsies. Critical disdain is part of Vettriano's success, making him "controversial". By liking him you are siding with ordinary folk against the lofty hierarchs. So I should probably praise him and hope he'll go away; but it would be like a scientist saying, you're right, evolution is just a theory. Some things about art are true, and some are false - all of which was easier to explain before we decided popularity was the litmus test of aesthetic achievement."
But Jones is right, and his comments go to the very heart of an underlying question about art - what is good? This is the subject of years of books and writings, but allow me to sum it up in my own words. Vettriano's work is accessible, easy to like, there's a little story in each painting that you could immerse yourself in - he's the Scottish Braaq, on steroids. But it's only good in the same way that Stock, Aitken and Waterman songs in the 1980s were good. I'll leave you to judge.
The life of John Bellany, RA (1942 - 2013) was summed up by The Independent it its obituary: "John Bellany was one of the greatest Scots painters of the post-war period and an artist whose work had a tremendous influence on others. He changed the face of Scottish art by breaking away from the Colourist tradition to define a new aesthetic, which combined everyday scenes with religion and mythology."
The six Bellanys at Sotheby's all sold, with the highest price - nearly £44,000 - going to a 60" by 40" painting entitled Chinatown, a different version of which was used by Transport For London some years ago to advertise the attractions of Chinatown at nearby Leicester Square station.
Bellany is indisputably an important artist, particularly to Scotland. A Royal Academician, his works are held in the collections of major museums and art galleries throughout the world, including the National Gallery of Scotland; the Tate Gallery; the Museum of Modern Art, New York; and the Metropolitan Museum, New York.
The Chinatown picture was actually the fifth highest price ever achieved by a Bellany at auction, but the other 5 at Sotheby's could all have been yours for £15,000 or less. Part of the pricing problem for Bellany's work is that many of the pictures are large, and they are definitely not "decorative". Vettriano consistently paints pictures that fit above the average chimney breast, Bellany painted pictures that need entire walls to themselves.
Perhaps the most fascinating part of the Sotheby's auction though was the work of Peter Howson (1958 - ). There were six Howson oils on display, with exceptional provenance and importance - from the collection of Robert Heller, featured in Heller's book on Howson, and were originally sold through Flowers East, Howson's gallery in London.
Howson is an astonishing painter. He blends critical acclaim with commercial success. His paintings have been featured on a postage stamp and pop album covers. He has an OBE and was the Official War Artist for the Bosnian War. The public collections in which his work is held are too numerous to mention.
But he is most definitely not an "accessible" artist. His auction record for a single painting is £173,000 for Croatian and Muslim, which was sold by the estate of the late David Bowie. The picture is a life sized scene of a rape during the Bosnian war, and is horrifying and magnificent in equal measure. When it came for auction in 2016, Sotheby's described it thus: "Croatian and Muslim remains the most controversial flashpoint of Howson's Bosnian work and arguably one of the most controversial paintings from the last two decades of British art. Moreover, the painting proves that in a modern age where images of suffering can be seen all too regularly on television and in photographs the power of the war artist to move and shock has not been lost."
Howson's pictures are not for the faint hearted. Like Bellany's, they are often very large, and of the ones being auctioned at Sotheby's, the smallest was 48" by 60". What was most amazing about the run-up to the auction was the price guides being set by Sotheby's for the Howson pictures. The 72" by 50" The Drunken Priest - a superb picture - was estimated at just £6,000 - £8,000. Even the huge Cerberus - with about as much fine provenance as you can get - was only guided at £15,000 - £20,000. In the end, the painting went for nearly £53,000, but you could have acquired Orion, a big, difficult picture for just over £10,000.
As you can probably tell, I am a big fan of Howson, a fan of Bellany, and not a fan of Vettriano. To play a quick game - if the same person acquired both Vettriano's, they would have spent a total of £70,000. If I was going to spend that money at that auction, I wouldn't have looked twice at the Vettrianos. Instead I would have bought 3 of the Howsons, 3 of the Bellanys and still had enough change to tuck in a couple of charming drawings by John Fergusson, buy lunch and hire the Van to take them back North, delighted with the basis of an outstanding collection.
Mind you, I'd probably have needed to move house to somewhere with big enough walls to hang them all. And therein lies part of the problem. There's a reason Stock, Aitken and Waterman have sold more than 40 million records.