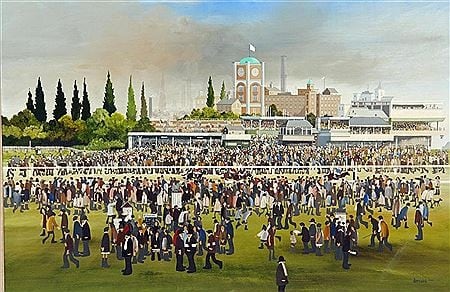 Very few artists closely associated with The Northern School have had one of their paintings sell through auction for more than £50,000. In fact the list comprises just two names. The first, obviously, is L S Lowry. The second is not Theodore Major (record price £36,000), nor is it Geoffrey Key (£15,000). Astonishingly, it is the Liverpool born, Yorkshire based Brian Shields (1946 – 1997), better known by his artistic pseudonym – Braaq.
We say astonishingly because the life and career of Shields is shrouded in complete mystery. In early 2017, we published one of our detailed research notes on Shields (please contact the gallery if you would like a copy). As far as we could tell, this was the most comprehensive account of the artist's life that exists, and it contained only pretty basic information. It highlighted that almost nothing exists in the public domain about Shields, but despite this fact a prodigious number of his works have sold through auction, and showed some very steep price rises, particularly in 20013/14. Very few artists regularly sell through auction for more than £10,000 per painting. More than 50 of Braaq's paintings have done so.
As far as the auction records go, there have now been approximately 270 Braaq oils sold since 2006 (as well as a large number of pastels and prints). This is a huge number, and to us is almost inexplicable. Over the same period, for example, Geoffrey Key has seen just 170 oils go through auction. There is real relevance in this comparison - Geoffrey Key has been actively painting full-time for more than 50 years. He has been consistent in his output, his own record (which is incomplete) of the pictures he has sold exceeds 3,500, and he is extremely widely collected nationally, and internationally. Shields by comparison started his career 10 years after Geoffrey Key, had a productive painting career of only around 15 years and died more than 20 years ago. The earliest dated painting we can find is 1972, and the latest is 1986. He was made bankrupt in 1984, moved to Portugal and only returned to the UK shortly before his death in 1997.
Virtually every other artist you can think of with this profile and these prices would have had their life explored or commemorated in some way – through a biography, or perhaps a retrospective exhibition. At the very least, one would have expected the basic facts about his life and work to be well known.
With Shields, there is almost a complete blank. None of his works are held in public collections. He had very few official exhibitions at Galleries (and we have never found a catalogue for those we know about). Pretty much all the biographical detail on retail gallery websites is riddled with basic factual errors. His pictures are hard to dislike, and executed with some skill – but they are entirely derivative pastiches of Lowry, Major or William Turner, lacking in any semblance of artistic importance, and he essentially turned out the same picture time and time again.
What then is driving the pricing of his work? This is the biggest mystery to us. There is – in art terms – a huge supply of his work through auction. His market is essentially entirely regional, with the large majority of his work going through Yorkshire auction houses. The number of new buyers to replace the collectors who were contemporary to Braaq must be rapidly diminishing in number. There is essentially zero provenance attached to any of his paintings at auction. A new collector cannot research the artist. There are strange inconsistencies – all the pictures are precisely painted, despite Braaq's reputation as a bon viveur, described to us as "a likeable rogue, very good with the ladies but always skint and living beyond his means". About half his pictures offered at auction are dated with his signature, half are not, a strange situation for an artist (who are usually consistent in the way they sign paintings). Yet still, most of the pictures offered through auction sell, and sell at strong prices.
It is clear that a number of auction houses and galleries have a vested interest in keeping up the supply of Braaq paintings, and talking up his story to maintain prices. However, there is something that does not feel right in the market for Braaq's work. Either he was one of the most prolific artists of his, or of any, time (particularly given his short painting career), or there are very few of his pictures still in the hands of the original owners. Or perhaps there is something more sinister afoot, as has been hinted to us in correspondence with clients, but without any evidence there is little point speculating.
Whichever it is, more light needs to be cast on the life and work of Braaq - we'd welcome any information.