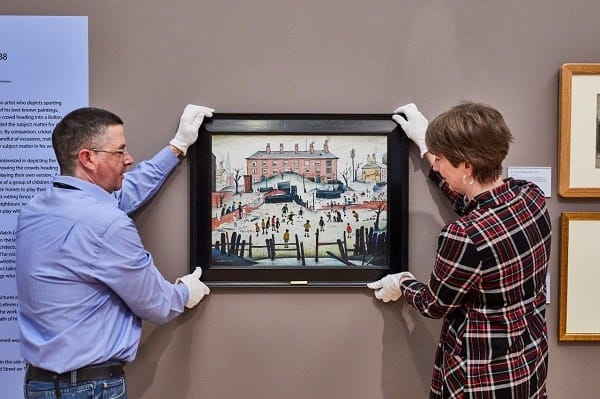 June has been a really interesting month for Lowry at auction. 34 pieces have been offered across the Big three house: Christie's, Bonhams and Sotheby's. Christie's stole a march on the others, offering 20 pieces direct from the estate, which had been on long-term loan to various museums. It's been a really good indicator of the current state of the market for works by Lowry and we can probably take 5 key learnings from the sales.
First, demand is strong. Of the 34 works, 29 sold, raising a total around £3.25m on the hammer. The star of the show was "A Cricket Match", an 18" x 24" oil, which sold for £1.16m including costs, and making the Top 25 of high prices realised for Lowry paintings ever sold at auction.
Second, provenance – as we consistently say – is vital in works by Lowry, particularly drawings. There is no definitive catalogue of Lowry's drawings, and he would often give such doodlings as gifts. He is a much copied and faked artist, so cast iron provenance is vital. The Christie's show in particular delivered such provenance, and all but one of the Christie's pictures sold. The one that didn't was in very poor condition, and the auctioneer's estimate of £25,000 to £35,000 felt very high.
Third, although demand was strong, it was not a runaway success. Exactly half the works (17) either didn't sell or came in at hammer prices below the auctioneer's low estimate. Only 7 exceeded the auctioneer's high estimate, and of these 4 only crept over the high estimate.
Fourth, being an auction house can be a lucrative business. They will have earned a total of around £715,000 in buyer's premium alone (which is around 30% of the hammer price in most of the cases). We don't know whether the auctioneers charged usual seller's fees as well, but if they did, they will have earned more than £1 million from the Lowry sales alone. It's perhaps no surprise that Sotheby's announced earlier in June that is was being taken over for a total value of $3.7 billion.
Fifth, it's no exaggeration to say that the market for Lowry works is a very strange one indeed. Consider this – for the same price as a good Lowry drawing went for this month (£144,000), you could buy an equally good drawing by either David Hockney or Salvador Dali. However, for the same price as the good Lowry oil went for (£1.15m), you would get nowhere near buying a decent oil by either artist – Hockney's auction record is £70m, and Dali's £13m, versus Lowry's £5m-ish.
This suggests that either Lowry's oils are undervalued, or his drawings overvalued. We suspect it's a bit of both. The market for Lowry is very domestic – the big auction houses never put his pictures through their New York sales office (where the big money is). Without global demand for his work, there is a natural ceiling to his prices, as there really are not very many people who can spend several million pounds on a painting in the UK.
The audience for his drawings is much larger, as many more people have up to £100,000 or so spare. Lowry has entered the hearts and consciousness of British popular culture – only Van Gogh has had a more successful pop song written about him than the Lowry inspired "Matchstalk Men and Matchstalk Cats and Dogs" which was Number one for 3 weeks not long after Lowry died. Because of this, our fear is that Lowry drawings are now being priced solely as pieces of memorabilia, not as works with any artistic merit - too many of those drawings fetching thousands or tens of thousands of pounds are brief sketches or doodles. The same is true of Lowry prints, which are essentially long-run (often editions of 850) photocopies of Lowry paintings, to which he (or his studio) have added a pencil signature.
Demand for good Lowry oils is locked in for the foreseeable future, possibly forever> good, finished drawings with iron-clad provenance should also do well in years to come. We are much more cautious about other works.