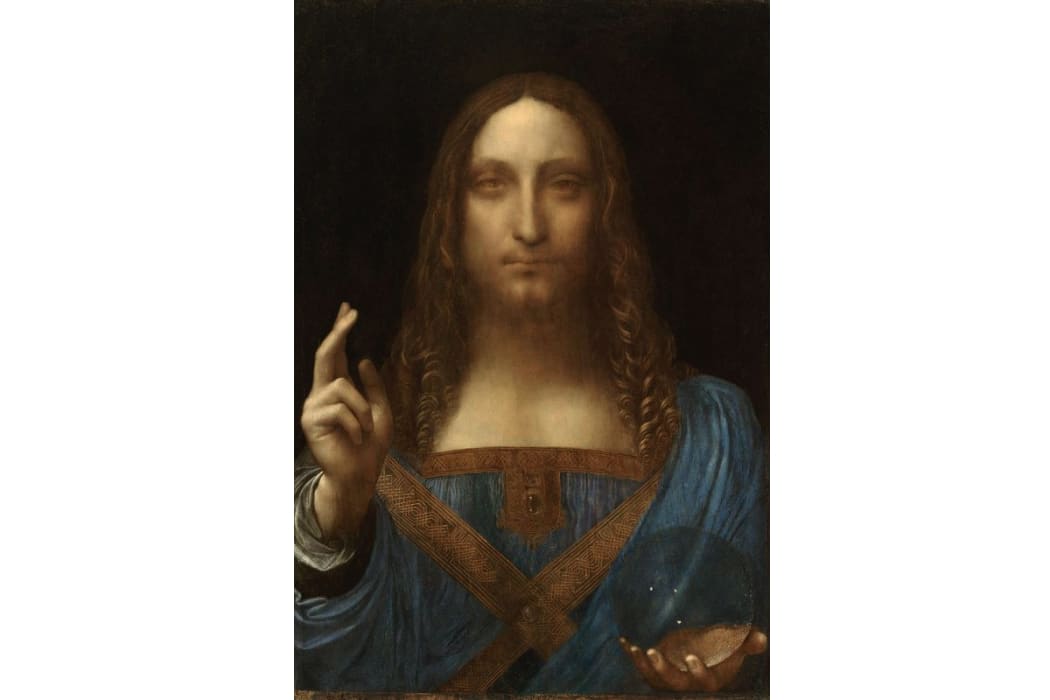 Bought in 2017 for a world record $450m and now worth only $1m? This is the fate hanging over Salvator Mundi, the allegedly lost painting of Christ by Leonardo Da Vinci that was due to have been both the 2018 centrepiece of the Louvre's extension in Abu Dhabi and the Louvre Paris blockbuster Leonardo exhibition later this year. It will not now be appearing at either as doubts over its authenticity, and even its whereabouts, persist. If the story of this painting was a Hollywood film, it would seem too far-fetched. It involves world famous Museums, a Russian oligarch, Middle East politics, the reputations of art experts, and of course a huge amount of money.
The history of the painting is fairly well-known, and until 2011 it was assumed to be the work of Leonardo's pupil Giovanni Antonio Boltraffio, in poor condition and selling at auction in 1958 for around £50. The change in the painting's fortunes began in 2005 when a group of art dealers acquired the picture in an American auction for an estimated $1,175. It had been heavily overpainted so it looked like a copy, and was described as "a wreck, dark and gloomy".
The new owners set about a programme of extensive restoration, as well as trying to have the picture reclassified as a genuine Da Vinci. In 2011 it was authenticated by the National Gallery and exhibited there as part of a Da Vinci exhibition. This alone was an extraodrinary act by the National Gallery, as it has a policy of avoiding actions that will create huge profits for paitings it has been lent by private owners.
Salvator Mundi's controversial story rapidlay continued - in 2013 the painting was acquied by Swiss art dealer Yves Bouvier, who flipped it to a client, the Russian oligarch, Dmitri Rybolovlev for $127m. This deal is part of what is now dubbed The Bouvier Affair, an ongoing series of lawsuits brought against Bouvier for allegedly systematically overcharged clients for paintings he brokered to them.
Perhaps Rybolovlev felt less hard done by in 2017, when he sold Salvator Mundi for $450m at Christies in New York. It was acquired by the Saudi Arabian Crown Prince, Mohammad Bin Salman, ahead of bidding from a Chinese billionaire. He was in fact acting on behalf of the Abu Dhabi Royal Family, who wanted the picture for their newly opened Art Museum, developed in conjunction with the Louvre. The Museum was built at a cost of approximately $600m, but in an extraordinary deal, Abu Dhabi paid $525m to the French Government to use the Louvre name, and a further $750m in exchange for art loans, special exhibitions and management advice.
The plot began to thicken in Summer 2018, when just a few weeks before the painting's official unveiling in Abu Dhabi, the Museum tweeted: "The Department of Culture and Tourism – Abu Dhabi announces the postponement of the unveiling of Leonardo da Vinci's Salvator Mundi. More details will be announced soon."
And that was it. No further announcements, just a lot of speculation, until a couple of weeks ago the Louvre Paris confirmed that Salvator Mundi will not form part of its Autumn exhibtion to commemorate the 500th anniversary of Da Vinci's death.
There have been some fascinating rumours surrounding the painting. It has been claimed that the painting has been lost by the Saudis. It has been claimed that clerics from Sunni Islam's leading authority the Al Azhar university in Cairo ruled that the painting could not be displayed on religious grounds (Jesus is seen as a prophet within Islam, which prohibits any physical depiction of God. But the picture portrays him as a saviour and thus a deity).
But it would seem that it is simply a case of minds being changed about the picture's authenticity. For more than 500 years, it was not a Leonardo Da Vinci. For a six year period it was extensively restored and sold for combined values of more than half a billion pounds, and now it may return to obscurity.
Wherever the truth lies, you can be certain of one thing. A saga that involves Russian oligarchs, the Saudi Royal Family, the Louvre, the National Gallery, the reputations of art experts and a multi-million series of lawsuits, Salvator Mundi will not die quietly.
For more information, there is an excellent series of articles on the the painting at artwatch.co.uk (for example: http://artwatch.org.uk/how-the-louvre-abu-dhabi-salvator-mundi-became-a-leonardo-from-nowhere/), and the recently published book by Ben Lewis, "The Last Leonardo" covers the saga in depth